Wed 07 Jun 2023 9:23 am - Jerusalem Time
Blinken discussed human rights with the Saudi crown prince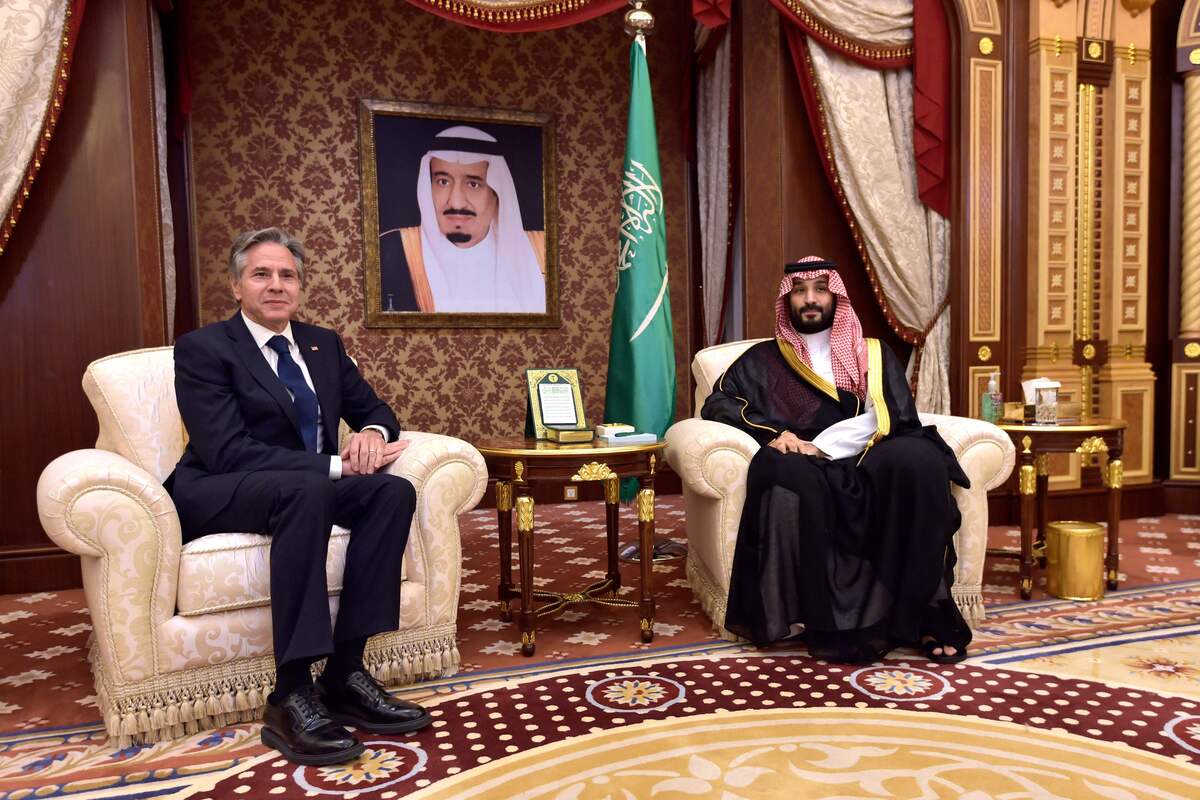 On Tuesday night, US Secretary of State Anthony Blinken held talks in Jeddah with Saudi Crown Prince Mohammed bin Salman, which dealt with human rights and a possible normalization of relations between Israel and the Kingdom.

On the first day of the US minister's visit to the Kingdom, a US official, speaking on condition of anonymity, said that Blinken and the Saudi crown prince had an "open and frank conversation," explaining that the foreign minister had raised with Prince Mohammed bin Salman the issue of human rights "in general and with regard to specific issues."

He added that the meeting, which began around midnight local time in the royal palace and lasted an hour and forty minutes, allowed for a number of points of "convergence (...) with our recognition of those on which we differ."

He added that they "discussed a possible normalization of relations with Israel and agreed to continue dialogue in this regard."

Discussions also touched on the conflict in Sudan, where US and Saudi mediation failed to enforce truces between the two warring military leaders.

The United States said it was ready to resume talks in Jeddah with envoys from both sides if they were "serious" in their desire to respect a ceasefire that helps deliver humanitarian aid.

Since April 15, the war in Sudan between the army led by Lieutenant General Abdel Fattah al-Burhan and the Rapid Support Forces of Lieutenant General Muhammad Hamdan Dagalo has killed more than 1,800 people and displaced more than 1.5 million people.

Blinken and Mohammed bin Salman reaffirmed their "commitment to stability, security, and prosperity in the Middle East region and beyond," including towards ending the conflict in Yemen, US State Department spokesman Matthew Miller confirmed in a statement.

And the US Secretary of State arrived on Tuesday evening in Jeddah, located on the Red Sea, on a visit to Saudi Arabia aimed at improving relations with the Kingdom. The Saudi ally, which Washington supplied with weapons, plays a major role in the region. US officials do not hide their desire to maintain strong relations between Washington and the Kingdom.

After Jeddah, Blinken will head to Riyadh on Wednesday to participate in the GCC foreign ministers' meeting.

Together with his Saudi counterpart, Faisal bin Farhan Al-Khamis, he will also chair a meeting in Riyadh of the coalition of countries fighting the Islamic State, which was established in 2014 and includes dozens of countries.

The three-day visit comes against the backdrop of a historic rapprochement between Saudi Arabia and two US enemies, Iran and Syria, which triggered a change in the geopolitical situation in the region.

The Islamic Republic, archenemy of the United States and Israel for decades, reopened its embassy in Saudi Arabia on Tuesday, seven years after it was closed.

Relations between Washington and Riyadh are complex, as Joe Biden's administration accuses the wealthy Gulf state of human rights abuses and influencing crude oil prices.

On Tuesday, human rights activists called on Blinken to raise this issue with the Saudi authorities.

Among them is Abdullah al-Qahtani, an American citizen whose father, Muhammad al-Qahtani, was cut off from news, who served a ten-year prison sentence in Saudi Arabia for founding a civil rights group.

He said in a virtual press conference that Blinken "must look into my father's situation. Is he alive? Was he tortured? We don't know."

As for normalization with Israel, it is a very sensitive issue and will constitute a new change in the region after the recent rapprochement between Riyadh and Tehran, sponsored by China, as well as between Riyadh and Damascus after years of apathy.

Blinken said in a speech to the American Israel Public Affairs Committee (AIPAC) Monday in Washington that the United States has "a real national security interest in encouraging normalization between Israel and Saudi Arabia."

He added that Washington "has no illusions" that this can be done quickly or easily, stressing that the Americans "will remain committed to working towards (achieving) this result."

In recent years, the United Arab Emirates, Bahrain, and Morocco have announced the normalization of their relations with Israel, violating decades of Arab consensus that required resolving the Palestinian issue to establish relations with Israel.
Tags