Sat 03 Jun 2023 12:58 pm - Jerusalem Time
Erdogan is sworn in as president for a third term in Türkiye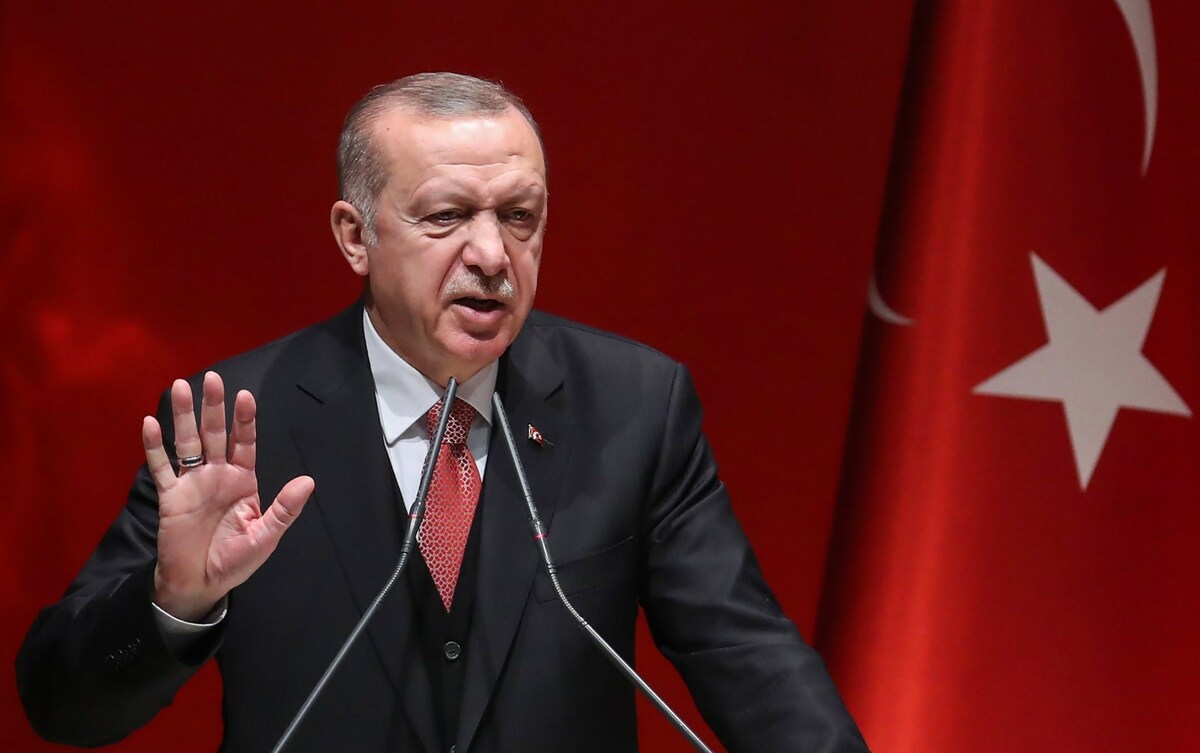 Turkish President Recep Tayyip Erdogan, on Saturday, is sworn in as head of state after winning an unprecedented second round of elections for a new, third term of five years after his two-decade rule, amid worsening economic problems in this country.

The inauguration in parliament will be followed by a lavish ceremony in his palace in the capital, Ankara, attended by dozens of world leaders.

The transformative but divisive president won the second round of elections on May 28 against a powerful opposition coalition, despite an economic crisis and sharp criticism following the devastating earthquake that killed more than 50,000 people.

Erdogan won with 52.8 percent of the vote compared to 47.82 percent for his secular rival, Kemal Kilicdaroglu.

The Turkish leader, who has been in power for a record time in Turkey, faces immediate and major challenges in his third term amidst a flagging economy and foreign policy tensions with the West.

"From a geopolitical point of view, the elections will reinforce Turkey's recent quest for an independent foreign policy," said Mart Gerteken, senior geopolitical strategist at BCA Research.

"This policy aims to extract maximum economic and strategic benefits from authoritarian eastern states while still preventing a permanent rupture in relations with western democracies," he added.

"It is likely that tensions with the West will escalate again, and within this framework, after Erdogan obtains a new mandate," he added.

Addressing the country's economic problems will be a top priority for Erdogan, with inflation now running at 43.70 percent, partly because of his unconventional policies of cutting interest rates to stimulate growth.

The president is set to announce his new government late Saturday, amid media speculation of a role for former Finance Minister Mehmet Simsek, a reassuring figure of international stature.

This former Merrill Lynch economist is known for his opposition to Erdogan's unorthodox policies. He held the Ministry of Finance between 2009 and 2015, and was deputy prime minister in charge of the economy until 2018, then resigned before the lira deteriorated several times that year.

"Erdogan's government will follow a traditional stabilization program," said Alp Ernich Yildane, professor of economics at Istanbul's Kadir Has University.

"What we are seeing now is that the news about Mehmet Şimşek and his team is welcomed with enthusiasm by the markets," he added.

Members of Turkey's new parliament began taking the oath Friday in a first session after the May 14 elections, which Erdogan also attended.
His coalition has a majority in the 600-seat parliament.

Erdogan's victory came against a united opposition coalition led by Kilicdaroglu, whose future as CHP leader remains in doubt after the defeat.

NATO members want Ankara to greenlight Sweden's bid to join the US-led defense alliance ahead of a summit in July.

Erdogan stalled in approving the request, accusing Stockholm of harboring "terrorists" from the outlawed Kurdistan Workers' Party (PKK), which Ankara and its Western allies classify on terrorist lists.

And NATO announced Friday that its Secretary General Jens Stoltenberg will attend Erdogan's inauguration ceremony this weekend and will hold talks with him.

Swedish Foreign Minister Tobias Billström said on Twitter that a "clear message" had emerged from the NATO meeting in Oslo for Turkey and Hungary to start the ratification process.

His Turkish counterpart, Mevlut Cavusoglu, replied, "A crystal clear message to our Swedish friends! Fulfill your obligations related to the tripartite memorandum and take concrete steps in the fight against terrorism...and the rest will follow."
Tags