Mon 25 Sep 2023 1:39 pm - Jerusalem Time
Head of Hamas Meshaal: Israel exploits normalization to escalate aggressions against Al-Aqsa Mosque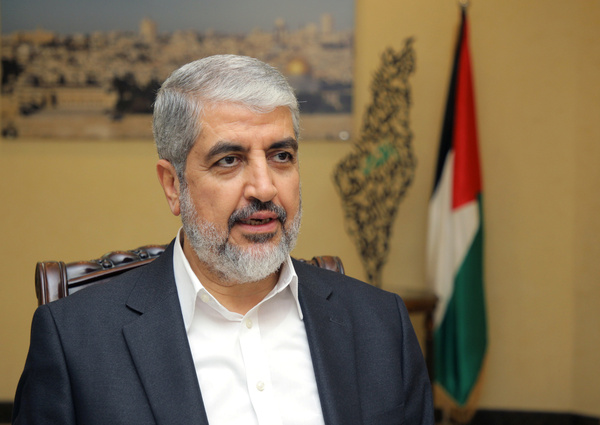 The head of the Hamas movement abroad, Khaled Meshal, said, "The Israeli occupation has prepared itself to implement its plans and escalate its aggression against Al-Aqsa Mosque, taking advantage of the global and Arab preoccupation with normalization."
Meshaal continued during his participation in the "Meeting of Support for Al-Aqsa and its sit-ins Palestinians" which was organized by the International Al-Quds Foundation and the International Union of Palestine Scholars: "This moment is historic, and it is the moment of truth between Israeli plans and the nation's responsibility."
He pointed out that the current Israeli government is the most extreme, and through the Temple organizations and settler groups who have become present in the Knesset and the government, they have strengthened this with normalization, and they have prepared for what is known as the "Abraham" Accords and used them as a cover for their plans in Al-Aqsa.
Mishaal added: "The Abraham Accords view Al-Aqsa as an open square for all, and gave the settlers the right to storm it, and reduced Al-Aqsa Mosque to the Al-Qibli Mosque."
He continued: "The group of Smotrich, Ben Gvir, and Netanyahu is seeking to resolve the battle of the West Bank, not only by planting it with settlements, but by working to displace the residents of the West Bank. This is a difficult moment, and they want to resolve the battle of Jerusalem by tightening political and religious control over it."
Meshaal said: "Challenge is met only with challenge, and force is met only with force. The occupation was preparing itself for a repeated battle with Gaza, but with the great resistance sponsored by the Joint Resistance Chamber, our people surprised the occupation by moving the focus of the conflict to all the cities, villages and camps of the West Bank."
He pointed out that normalization allowed the occupation to storm Al-Aqsa, stressing that the religious war imposed by the occupation will not pass, and our people will remain the impregnable fortress to protect Jerusalem and Al-Aqsa.
Meshaal said: "The enemy is playing with fire, and we will burn him with fire. The resistance is capable of thwarting the occupation's plans, and before we thwarted his plans in Al-Aqsa. This is the battle of the nation, conscience, humanity, and the battle of faith. Gaza today is once again preoccupying the enemy with the battle of Saif al-Quds and on the border with the participation of our people."
He called on the Palestinian people to rush to sit-in around Al-Aqsa to confront Judaization plans, warning that the Islamic, Arab and popular response must be escalated in various fields in support of Al-Aqsa.
Meshaal called on the Arab and Islamic countries to stop the sin of normalization with the occupation, considering that it is not a service to the Palestinian people, but rather a stab in the back of the issue.
He told the countries: "Normalization is a danger to your economy, your national security, and your sovereignty. This is an enemy that wants bad for you just as it wants bad for us. It does not even care about its allies in the West, let alone those who normalize with it and considers them a bridge to penetrate the region and a cover for its crimes against our people."
Tags