Mon 25 Sep 2023 1:02 pm - Jerusalem Time
Israel holds 18 Jordanian prisoners in its prisons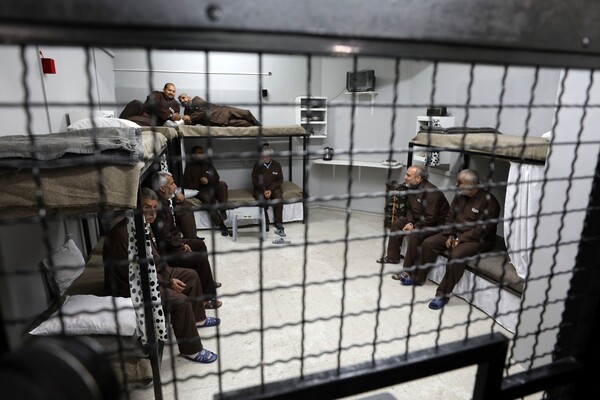 The Prisoners' and Ex-Prisoners' Affairs Authority said, "The Israeli occupation authorities are holding 18 Jordanian prisoners in their prisons, distributed among several Israeli prisons."
The Commission indicated in its report, today, Monday, that among the Jordanian prisoners currently detained in the occupation prisons, there are (9) prisoners serving life sentences (for life) one or more times, and (5) other prisoners serving sentences ranging from 20 -36 years, in addition to (3) prisoners serving sentences ranging from 15-19 years, and another prisoner serving a 5-year prison sentence.
It indicated that (7) of the Jordanian prisoners are on the list of "Deans of Prisoners" and have been detained for more than 20 years, and (5) others have been detained for more than 15 years.
The Commission confirmed that the Arab prisoners are an integral part and an essential component of the prisoner movement, which will not forget their participation in confronting the prison guard through the various stages of the struggle behind bars, and their participation in hunger strikes alongside their Palestinian brothers.
She explained that the Palestinian issue was not, at one time, an issue that concerned the Palestinians alone, but rather it was and still is the issue of the Arabs in general, and for its sake the Arabs provided many martyrs and prisoners, and that the Palestinian people preserve this and record their respect and appreciation for all those who struggled in the ranks of the revolution, in particular Those who were martyred in the battles defending Palestine, and those who were arrested and spent years in occupation prisons, and the Palestinian people still look forward to active Arab support and a supportive and influential role in seizing their freedom, ending the occupation, and establishing their independent state with Jerusalem as its capital.
In the same context, the Commission stated that the Lebanese martyr, Samir Kuntar, is the one who spent the most continuous years in Israeli prisons among the Arab prisoners. He spent more than 29 years before he was freed in 2008, and was martyred in an Israeli raid in 2015, while the freed prisoner Sidqi Al-Muqt is considered , from the occupied Syrian Golan Heights, spent the most years in occupation prisons over two periods, as he spent a total of 32 years, before he was released from the second detention in 2020.
The Commission called on all concerned parties and institutions, Palestinian and Arab, to give these Arabs the attention they deserve and adequate space to highlight their struggle and the sacrifices they made for the Palestinian cause, while making a lot of effort, both Palestinian and Jordanian, in order to activate the issue of the Jordanian prisoners and their worsening suffering in Israeli occupation prisons, which have increased due to escalating Israeli extremism.
Tags