Mon 25 Sep 2023 12:24 pm - Jerusalem Time
Saudi Arabia and Egypt condemn Jewish extremists storming Al Aqsa Mosque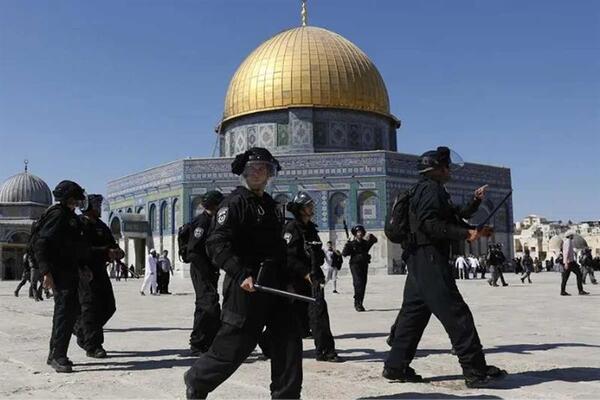 Saudi Arabia and Egypt today condemned in two separate statements the storming of Al-Aqsa Mosque, Islam's third holiest site, by Jewish extremists, describing it as a provocative act.
The Saudi Ministry of Foreign Affairs expressed the Kingdom's condemnation "of the continuous provocative practices carried out by a group of extremists at Al-Aqsa Mosque under the protection of Israeli occupation forces."
It expresses the Kingdom's "regret for the practices carried out by Israeli authorities that undermine international peace efforts and contradict international principles and norms regarding respecting religious sanctities."
The Ministry reiterated Saudi Arabia's "firm position to stand by the Palestinian people and support all efforts aimed at ending the occupation and reaching a just and comprehensive solution to the Palestinian issue, enabling the Palestinian people to establish their independent Palestinian state on the 1967 borders, with East Jerusalem as its capital."
Egypt also condemned in a statement the storming by Jewish extremists of the courtyards of Al-Aqsa Mosque under the protection of the Israeli occupation police.
The Egyptian Foreign Ministry said this step represents "a new episode in a series of escalatory measures that provoke the feelings of millions of Muslims around the world, and carry with it the risk of fueling violence and tension in the occupied Palestinian territories."
It called on the Israeli occupation authorities "to fulfill their obligations as the occupying power, and to stop such escalatory practices, as they represent a clear violation of the existing legal and historical status of the city of Jerusalem and its noble sanctuaries," stressing the need to respect the status quo at the Al-Aqsa Mosque and Al-Haram Al-Sharif in its entire area of 144 dunums as a Muslim worship endowment.
Egypt reiterated its call to influential international parties to assume their responsibilities toward protecting the Palestinian people's holy places and defend their legitimate rights, foremost of which is their right to self-determination and establishing their independent state on the 1967 borders with East Jerusalem as its capital.
Tags