Mon 25 Sep 2023 11:33 am - Jerusalem Time
Palestine Foreign Affairs warns against international community coexisting with Palestinian suffering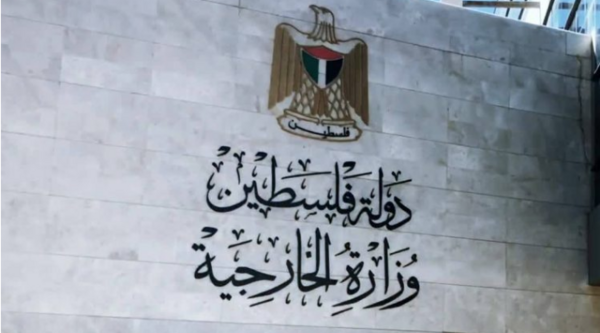 The Ministry of Foreign Affairs and Expatriates warned against the international community's coexistence with the scene of daily Palestinian suffering resulting from the occupation's violations and crimes against our people, their land, and their sanctities, as if it had become normal and did not require any serious intervention or stance.
In a press statement today, Monday, the Ministry of Foreign Affairs called on the international community to stop international double standards and be bold and courageous in applying international law to the situation in occupied Palestine, including implementing international legitimacy resolutions to ensure an end to the Israeli occupation of the land of the State of Palestine.
It condemned the violations of the occupation forces, settler militias, their members and armed terrorist organizations, and their continuing crimes against Palestinian citizens, their land, homes, property and sanctities, in addition to the continued targeting of Al-Aqsa Mosque and the Ibrahimi Mosque, with the aim of Judaizing them and imposing Israeli control over them.
It also condemned the ethnic cleansing operations carried out by the occupation forces against the Palestinian presence in Jerusalem and Area C, the latest of which was the notification to stop construction in 21 homes and facilities in the village of Sarta, west of Salfit.
The Foreign Ministry considered that the escalation in the crimes and violations of the occupation and its settlers is an integral part of the open war of occupation against the Palestinian people and their rights, and falls within an official replacement settlement plan aimed at completing the creeping gradual annexation of the occupied West Bank, including East Jerusalem.
It held the Israeli government fully and directly responsible for the successive waves of escalation and its disastrous results on the conflict arena and the entire region, and its repercussions on the chances of reviving the peace process and negotiations between the Israeli and Palestinian sides. It also held the international community responsible for its failure to force the occupying state to stop all its illegal unilateral measures. And being satisfied with some statements and media positions that do not find any echo from the other party, and do not translate into practical steps and actions to curb the continuing Israeli aggression against our people, and force the occupying state to engage in a real political negotiation process.
Tags