Mon 25 Sep 2023 7:51 am - Jerusalem Time
For the second day... massive incursions by Israeli settlers into Al-Aqsa Mosque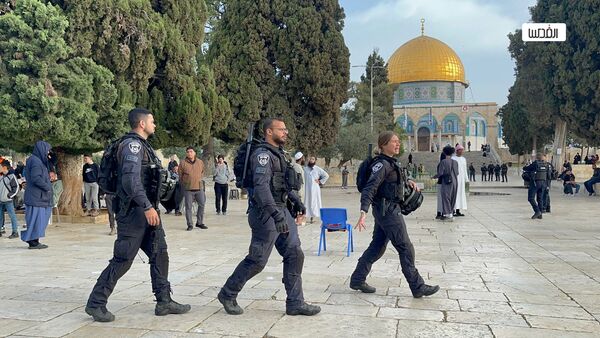 On Monday morning, Israeli settlers stormed Al-Aqsa Mosque in successive groups, amid calls to intensify the storming to commemorate the so-called "Yom of Atonement."
Yesterday, hundreds of settlers participated in the ongoing raids due to Jewish holidays.
A group of settlers were seen performing "epic prostration" inside the courtyards of Al-Aqsa.
Previously, large forces of the occupation police stormed the courtyards of the mosque to secure the settlers' incursions, as some members of those forces were seen removing some of the stationed people from inside it.
These forces prevented worshipers from entering Al-Aqsa Mosque, and forced those inside it to leave.
A group of male and female Palestinians who make sit-ins gathered inside Al-Aqsa, where they shouted "Allahu Akbar" amid attempts to disrupt the settlers' incursions.
The occupation forces deployed heavily inside the Old City since the early hours of dawn in preparation for securing the settlers' incursions.
In recent days, various factions, forces, and activities have launched calls to gather in Al-Aqsa and Rabat inside it, coinciding with calls for settlers to participate forcefully in the raids.
Tags