Sun 24 Sep 2023 9:15 am - Jerusalem Time
Joe Biden will urge UN to expand Security Council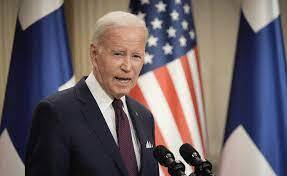 Joe Biden is expected to call for the UN Security Council to be expanded to counter Russia and China as world leaders gather in New York. US president wants to add countries including Germany and Japan to dilute influence of China and Russia
As reported by The Telegraph, US president will ask the 193 UN member nations to "take a look at the architecture of the Security Council," White House National Security spokesman John Kirby told The Telegraph ahead of the General Assembly.
Biden is due to speak on Tuesday, with Volodymyr Zelensky, the Ukrainian president, also expected to address the meeting in person for the first time since the war began.
The Telegraph understands Biden is pushing for "five or six" new permanent members, including India, Brazil, Germany and Japan. and South Africa have also been mentioned as possible members representing Latin America and Africa. It is not clear if they would have veto powers.
Currently, the UN Security Council has five permanent members: China, Russia, the US, UK and France. It also has 10 non-permanent members elected for two-year terms.
Speaking to The Telegraph at the White House, Kirby said: "I think President Biden, and you'll hear him talk about this a little bit more next week, we have been clear that we believe that it is time to take a look at the architecture of the Security Council.
"We believe it should be more inclusive and more comprehensive."
Asked if that meant changing the veto rules or the membership structure, Kirby said: "We just think it's time to have a discussion about the architecture in the organization. I think President Biden, the United States, would support more members."
The Security Council has struggled to reach agreement in recent years over key issues like North Korea and Syria. In May 2022, they failed to adopt a resolution that would have strengthened sanctions on Pyongyang over ballistic missile launches. Despite 13 signatories, China and Russia called the measure "counterproductive and inhumane".
Kim Jong-un, the North Korean leader has met with Vladimir Putin, the Russian president, to discuss a possible arms deal.
Reform of the Security Council would require an amendment to the UN Charter. This could be vetoed by China and Russia, whose powers to block resolutions and sanctions may be diminished by reform.
US and UN officials have told US media that Biden's plans may offer seats to new permanent members without the power to veto.
Britain's ambassador to the UN backs reform of the Security Council.
Tags