Sat 23 Sep 2023 8:23 pm - Jerusalem Time
Ethiopia calls on UN to accelerate the implementation of the peace agreement in Tigray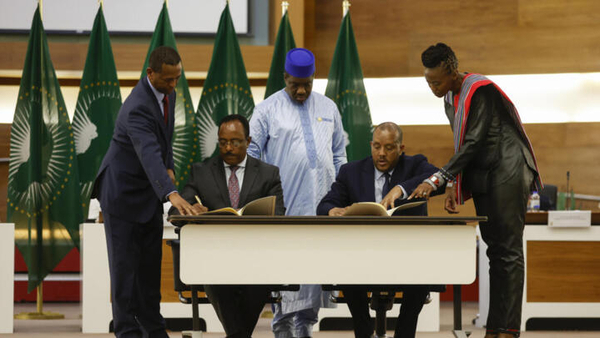 Ethiopia called on the United Nations on Saturday to accelerate the implementation of the peace agreement in Tigray, including the disarmament of former rebels.

In November last year, the Ethiopian government and the Tigray People's Liberation Front reached an agreement in Pretoria that put an end to a brutal war that has been going on for two years.

Ethiopian Deputy Prime Minister Demeke Mekonnen said in a speech before the United Nations General Assembly, "The implementation of the agreement continues to make significant progress despite some delays in the disarmament, demobilization and reintegration process."

"There is a need to accelerate this process and ensure its successful completion," he added.
The Tigray People's Liberation Front, which previously ruled Ethiopia, agreed to disarm under the Pretoria Agreement with military advances made by government forces.

An African Union monitoring mission confirmed in January that the aforementioned front had begun handing over its heavy weapons, while in July the Tigray authorities reported the demobilization of more than 50,000 fighters, but the level of implementation of the agreement is still unclear.

Demeke said Prime Minister Abiy Ahmed's government, which has faced intense criticism including from the United States over alleged human rights violations, remains "committed to promoting peace and stability across the country."

He added that the agreement brokered by the African Union in South Africa "is a practical embodiment of African solutions to African problems."

What further complicates the effort is that forces from the neighboring Amhara region still control western Tigray in an area that could potentially constitute a fuse for an explosion.

The Pretoria agreement calls for the withdrawal of foreign forces, but residents say there is still a presence of forces from neighboring Eritrea, which has been accused of committing some of the worst abuses after the intervention against the Tigray People's Liberation Front.
Tags