Sat 23 Sep 2023 6:21 pm - Jerusalem Time
13 dead and 20 wounded in a suicide bombing in central Somalia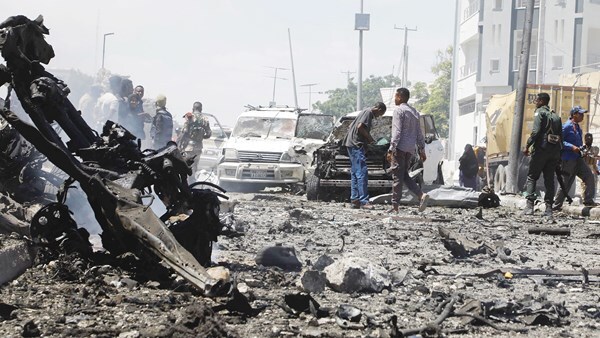 Thirteen people were killed and 20 others were injured in central Somalia on Saturday after a suicide bomber deliberately detonated a truck full of explosives near a checkpoint in the city of Beledweyne, police announced.

Local police official Ahmed Aden announced in a statement to Agence France-Presse that "the bodies of 13 people, most of them civilians who live close to" the site, were found.

He reported that "about 20 wounded people were transferred to hospitals," and added, "We believe that the number of casualties is likely to rise."

The attack, which damaged nearby buildings and led to many being trapped under the rubble, comes after the weak Somali government acknowledged that it had suffered "several major setbacks" in its campaign against Al-Shabaab Islamic movement fighters.

The movement's fighters have been waging an insurgency for more than 15 years to overthrow the weak, internationally-backed government in Mogadishu.

The African Union force, which deployed in Somalia in 2007 with a six-month mandate, is still present in the country, and the government is currently seeking to postpone the process of reducing the number of foreign forces for three months.

UN resolutions call for the withdrawal of the African Union force from Somalia by the end of next year, and for the transfer of security responsibilities to the country's army and police.

In August last year, Somali forces launched a large-scale attack against the Al-Shabaab movement affiliated with Al-Qaeda, and were supported in their campaign by clan militias in an operation supported by the African Union force and supported by the United States with air strikes.

Somali President Hassan Sheikh Mohamud took office last May and pledged to wage an "all-out war" against the Al-Shabaab movement, which was defeated from Mogadishu in 2011 but still controls vast areas of the country.

The president, who recently conducted inspection visits to the front line, said in August that the government would eliminate terrorists by the end of the year.

However, the Somali National Security Advisor requested, in a letter he addressed to the United Nations, to postpone the process of withdrawing three thousand members of the African Union force scheduled for the end of September.

The letter, seen by Agence France-Presse, said that the government "was able to re-liberate cities, towns and basic supply routes," but its operation had suffered "several major setbacks" since late August.
Tags