Sat 23 Sep 2023 11:50 am - Jerusalem Time
Launching an international campaign entitled "Open Gaza's Ports"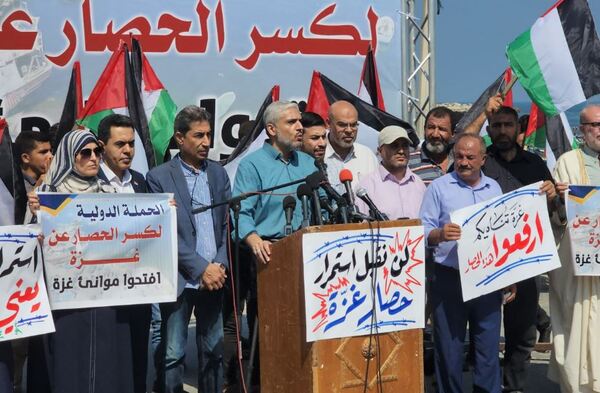 On Saturday, an international campaign was launched by several countries in conjunction with an event in the Gaza port, to demand the lifting of the Israeli siege on the Gaza Strip, which has extended for more than 17 years.
Dozens of people participated in the launch event of the campaign called "Open Gaza's Ports," raising slogans requesting the lifting of the siege and opening the Gaza Strip's crossings to operate with complete freedom and allowing the entry of all the Gaza Strip's needs.
The head of the government media office in Gaza, Salama Marouf, said that the occupation prevents more than 6,000 patients annually from going out for treatment abroad, in addition to preventing the entry of dozens of medical devices and supplies into the Gaza Strip.
Marouf pointed out that the occupation has destroyed more than 2,500 industrial facilities in the Gaza Strip over the past years, and is also preventing the arrival of electricity supplies and failing all projects working to solve the electricity crisis.
Marouf accused the Israeli occupation of committing an international crime by continuing its siege of the Gaza Strip for more than 17 years, saying: "We say enough is enough for this Zionist siege and let the ports of Gaza be opened and the siege broken."
He added: "The world must respond to the call of our people in the Gaza Strip and end the siege, and our message today is that this siege must end."
For his part, President of the General Union of Cultural Centers, Yousry Darwish, said, "This event is part of joint work that will be launched to tell the world that we will not accept the continuation of the siege on the Gaza Strip."
Darwish added: We send a message to the whole world that the Palestinian people cannot continue to suffer alone, calling on the whole world to intervene to end the siege.
He continued: Our people have the right to lift the siege and gain freedom of movement and travel, demanding that the Palestinian people in the Gaza Strip be provided with a decent life, and that they be supported and assisted.
Tags