Thu 21 Sep 2023 11:26 am - Jerusalem Time
Polish Prime Minister announces Poland will stop arming Ukraine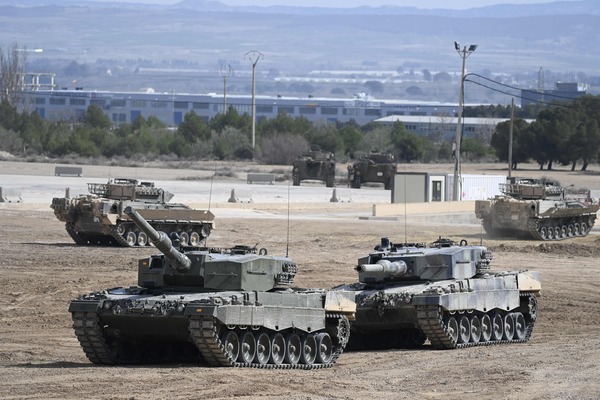 Polish Prime Minister Mateusz Morawiecki announced on Wednesday that his country had stopped arming Ukraine in order to focus on strengthening its own defense forces, a few hours after Warsaw summoned the Ukrainian ambassador amid a dispute between the two countries over grain exports.

In response to a journalist's question about whether Warsaw would continue to support Kiev militarily despite the dispute over grain exports, Morawiecki said, "We have stopped transferring weapons to Ukraine because we are now arming Poland with more modern weapons."

Poland has been at the forefront of countries supporting Ukraine and one of its most prominent arms suppliers since the Russian invasion began in February 2022.
Poland also hosts about one million Ukrainian refugees who have benefited from various types of government aid.
But the intensity of the dispute between Warsaw and Kiev has escalated in recent days due to the ban imposed by Poland on Ukrainian grain imports to protect its farmers.

In May, the European Union agreed to restrict grain imports from Ukraine to Bulgaria, Hungary, Poland, Romania and Slovakia to protect farmers in these countries who attributed the decline in prices in local markets to Ukrainian imports.

The measure allowed grain products to continue transiting through the five countries, but stopped their sale in local markets.
On Friday, the European Commission announced that it was ending the import ban, considering that "imbalances in the markets of the five member states of the bloc that border Ukraine have disappeared."

But Poland, Hungary and Slovakia quickly declared their refusal to comply with this step.

The situation in Poland, which is preparing to hold elections next month, is extremely sensitive, especially since the current right-wing government relies on strong support in agricultural areas.

Ukraine responded to the positions of Poland, Hungary, and Slovakia by threatening to file a complaint against these countries before the World Trade Organization.
Morawiecki warned earlier Wednesday that he would expand the list of Ukrainian products prohibited for import if Kiev escalates the dispute over grains.

The Polish Ministry of Foreign Affairs said in a statement, "Pressuring Poland in multilateral forums or sending complaints to international courts are not appropriate methods for resolving the differences between our two countries."

Kiev responded by calling for "leaving emotions aside" and urging Warsaw to pursue a "constructive" policy in this dispute.
Tags