Thu 21 Sep 2023 7:46 am - Jerusalem Time
More than 40 Jewish graves vandalized in eastern Germany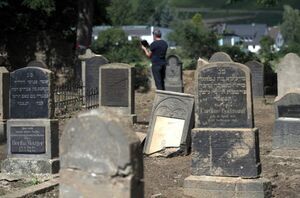 More than 40 ancient Jewish graves were vandalized by unknown assailants in eastern Germany, German police said Wednesday, but no arrests were reported.
Desso-Roslau police said that more than forty Jewish graves were vandalized in Köthen, "particularly by overturning the grave boards."
Police believe that acts of vandalism were committed between Friday and Tuesday in the Jewish part of this cemetery.
Authorities are looking for "anyone who can provide information about potential suspects."
Anti-Semitic crimes have steadily increased in Germany in recent years.
The government on Tuesday banned a group called "Hammerskins Germany," which promotes a "racist theory based on Nazi doctrine," during a massive nationwide raid.
Tags