Wed 20 Sep 2023 2:27 pm - Jerusalem Time
Mass marches for the funeral of the martyrs in the Jenin camp and city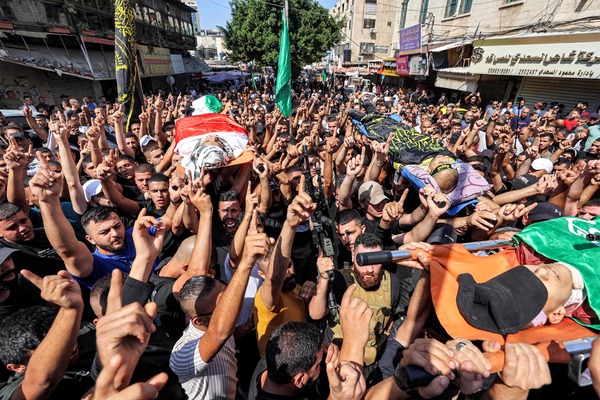 Thousands of citizens mourned this afternoon, Wednesday, the bodies of the four martyrs who were shot dead by the occupation forces last night, during the aggression against the Jenin camp, during which 30 citizens were injured.

The funeral procession for the martyrs, Mahmoud Ali Nafi' al-Saadi, Mahmoud Khaled Ararawi, Raafat Omar Khamaysa, and Atta Musa, began in the village of Marka, from Ibn Sina Hospital in the city of Jenin, led by dozens of armed fighters from the military wings of the factions who carried the bodies of the martyrs on their graves.
In an interview with Al-Quds.com, the spokesman for the Al-Aqsa Martyrs Brigades, Abu Ayham, said: "The occupation is delusional if it believes that assassinations, killings, and aggression against the leaders of the resistance and our people will stop the march of resistance."
He added, the failure of the occupation to reach the Commander-in-Chief of the Al-Aqsa Brigades, Muhammad Abu Al-Baha, confirms that the resistance is ready and will remain in the field, confronting the occupation and all its tools of suppression.
He stressed that the Jenin camp will remain a symbol of unity, struggle and steadfastness in the face of the occupation and its aides, stressing that the Al-Aqsa Brigades and all the resistance wings will remain united in the Jenin camp in the face of the occupation.

The special units carried out an operation in the Jenin camp targeting the commander-in-chief of the Al-Aqsa Martyrs, "Abu Al-Baha," who survived the ambush while the occupation forces threatened his family to liquidate him if he did not surrender himself. They arrested his father, but released him half an hour later and handed him over to the Al-Jalama checkpoint to the Palestinian Red Crescent after he suffered a seizure. Heartfelt, the Israeli aggression resulted in martyrs and wounded, while the occupation admitted that two patrols were damaged as a result of being targeted with locally manufactured resistance devices.
Tags