Wed 20 Sep 2023 11:24 am - Jerusalem Time
A report documenting the testimony of two minor Palestinian prisoners in Israeli prisons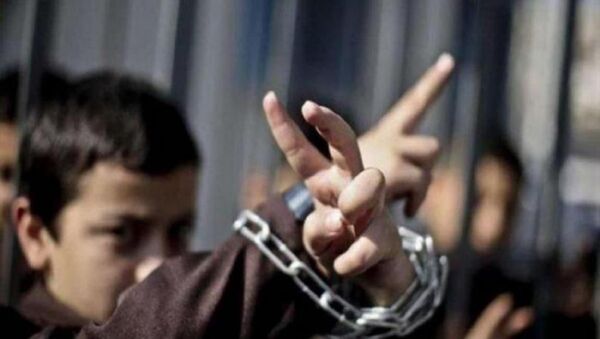 The Commission for Prisoners and Ex-Detainees Affairs revealed in a report issued today, Wednesday, that the Israeli occupation forces continue to use various forms of physical torture against Palestinian prisoners during their arrest from their homes, through interrogation and until they remain in Israeli detention centers.
The Commission gave live arrest testimony for two young captives who were subjected to violations by the Israeli occupation soldiers during their arrest, through the Commission's lawyer, Heba Agbaria. They are: Prisoner Osama Marmash (16 years old) from the city of Nablus. He was subjected to violations by the Israeli occupation soldiers, and was arrested at the Huwwara checkpoint in It was noon hours, and he was heading to a store nearby there to buy some items, when suddenly a military jeep stopped in the middle of the road near him, and a number of soldiers got out, attacked him, and kidnapped him, then brought him into the military jeep, handcuffed him, blindfolded him, and took him to a nearby army camp.
The authority said: "They put him inside a container, all iron and without a roof, and next to him were a number of soldiers who mocked him all the time, harassed him, and forced him to sleep on his back under the blazing sun. The prisoner asked them for a little water to drink, but after a long wait, they brought him boiling water to drink." He remained inside the "container" for about 48 hours while lying on the ground, after which he was transferred to "Megiddo Detention Center," the Cubs Section.
As for the prisoner, Ahmed Salaymeh (14.5 years old), from the town of Silwan in Jerusalem, who was arrested by the Israeli occupation soldiers in the afternoon hours. They assaulted and beat him, then tied his hands behind him and blindfolded him. They kept him standing with his face against the wall for two hours, and then brought him into the investigation room. He was interrogated for 3 hours, and during the interrogation the interrogator was yelling at him and screaming while stomping on his foot with all his might. The prisoner, Salaima, screamed in pain, but the interrogator did not care and continued to stamp on his foot with his shoe and iron sole. After two days of interrogation, the prisoner was brought before the court, and he was transferred. He remained in house detention for approximately two and a half months, after which he was transferred to the actual prison and was transferred to "Damoun" detention center, the Cubs section.
It is noteworthy that the number of detained children is 190, distributed among the prisons of "Ofer, Megiddo, and Damon."
Tags