Tue 19 Sep 2023 9:34 am - Jerusalem Time
Blinken calls, during meeting with Chinese Vice President, to manage tensions with Beijing "responsibly."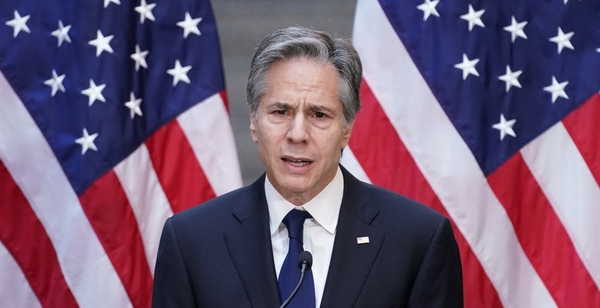 US Secretary of State Anthony Blinken called on Monday for managing tensions with China "responsibly," during his meeting with Chinese Vice President Han Jing in the second high-level talks between the two superpowers within days.

When meeting with the Chinese Vice President in New York on the sidelines of the United Nations General Assembly, Blinken expressed his belief that "face-to-face diplomacy" is capable of resolving differences.

"I think it is good that we have this opportunity to build on the high-level interactions that recently took place between our two countries," Blinken told the Chinese Vice President when the meeting began at the headquarters of the Chinese mission to the United Nations.

He added that the talks aim to "make sure to keep communication channels open and demonstrate that we are responsibly managing the relationship between our two countries."
The talks come as the United States closely follows the change of officials in decision-making circles in Beijing.

Foreign Minister Qin Gang, who was personally chosen by President Xi Jinping to hold the position, was replaced by Wang Yi.

American officials initially expected Wang to go to the annual United Nations meeting, where he could meet briefly with US President Joe Biden, but China said that the less well-known Han would attend.

But Wang, who is also director of foreign policy for the Communist Party, held talks last weekend in Malta with US National Security Advisor Jake Salvian.

The United States and China are on opposite sides of a number of issues, especially the issue of autonomous Taiwan, which China seeks to return to its control, not ruling out the use of force to achieve this goal.

China accuses the United States of inciting supporters of Taiwanese independence, and has recently intensified its military maneuvers around the island.
For its part, the United States says it seeks to maintain the status quo, noting that Washington has strengthened its support for the island, and last month approved direct military assistance to Taiwan for the first time.

Restrictions imposed by Washington on American investments and the export of semiconductors angered Beijing, and the United States justified the measure as protecting its national security.

But things seem to be moving towards containing the differences, as Blinken and US Treasury Secretary Janet Yellen visited Beijing this year, to resume communication that was interrupted during the pandemic.

The American approach towards China is contradictory to that adopted towards Moscow, as Washington has mostly rejected dialogue with Russia since its forces began invading Ukraine, with Blinken and other American officials questioning the feasibility of talks with the Russians.
Tags