Thu 08 Jun 2023 10:12 pm - Jerusalem Time
A young man was killed and another injured in Kafr Qassem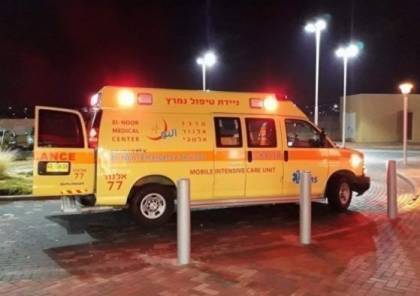 A young man was killed, Thursday evening, in a shooting crime committed near the city of Kafr Qassem, in the Southern Triangle area, within the 48 lands.
And local sources reported that a young man in his thirties, from the neighboring town of Jaljulia, was shot while driving his vehicle on Street No. (444) near the town of Kafr Qassem, and was critically injured, and medical staff announced his death later from his injury.
The medical staff also provided first aid to another injured person (33 years old), who was shot, and his condition is "medium serious".
Aid was also provided to a 46-year-old woman, who was in a minor condition, as a result of a road accident resulting from gunfire.
This crime comes a few hours after a shooting crime in Yafa al-Nazareth, which resulted in the death of five people, and another crime in Kafr Kanna, which seriously injured a three-year-old girl and her father, and a third in Umm al-Fahm.
In the aftermath of the crime near Kafr Qassem, the number of murder victims in the Palestinian community within the 48 territories since the beginning of this year rose to 92, including 6 women and two children.
Earlier today, the Higher Follow-up Committee of the Palestinian masses inside the 48 territories announced a general strike, tomorrow, Friday, in protest against the rampant killings, and called for "organizing demonstrations and vigils today and tomorrow, Friday and Saturday, in all our villages and cities," and warned against "exploiting the rampant The crime is for authoritarian political goals, such as bringing the Israeli Shin Bet into our society's affairs under the guise of dealing with crime."
Palestinian society is witnessing a continuous escalation in murders and violent incidents, at a time when the Israeli police are failing to play their role in combating crime, amid evidence of the complicity of the Israeli agencies with criminal gangs.
Tags