Tue 14 Nov 2023 10:22 am - Jerusalem Time
"We will be the army of Palestine." 300 lawyers from all continents volunteer to "prosecute" Israel.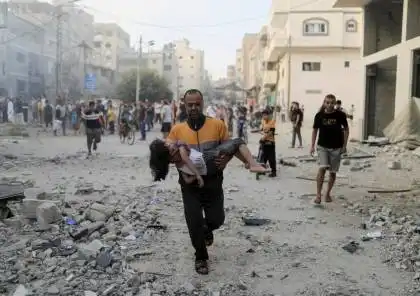 300 lawyers of different nationalities and religions from all over the world volunteered to "prosecute Israel for its crimes against the Palestinians."
A French lawyer named Maitre Gilles Defer took the initiative to mobilize an "army of lawyers" within 10 days.
Deaver confirmed in a televised interview that the list includes 300 lawyers so far, and 3,000 more can be collected, noting that the door to joining is still open to anyone "as witnesses to Israeli crimes."
Deaver said: "We submitted a complaint to the Public Prosecutor on behalf of associations and unions committing genocide, and the Palestinian issue will be presented in all national and international courts," pointing out that "governments can do something."
Defer, who is considered one of the oldest French lawyers, threatened the Israeli authorities with a "black fate" and told the Palestinians: "You did not have anyone to defend you, but now you have an army in international and national courts."
On the other hand, many French ambassadors to the Middle East expressed their regret over the pro-Israel shift taken by French President Emmanuel Macron in the Israeli-Palestinian conflict, expressing their fear of the repercussions of the situation on France's interests in the region.
The French President's retraction of his previous statements in which he accused Israel of bombing civilians, women and children sparked controversy and division in French political circles.
Local media reports indicated that "Paris is complicit in the Israeli war" on the besieged Strip through arms exports to Tel Aviv.
She said that the French government issued permits to export weapons to Israel with a total value of 357 million euros, including approximately 10 million for the manufacture of bombs, torpedoes, missiles and missiles.
Source: Samanews
Tags