Sat 23 Sep 2023 2:47 pm - Jerusalem Time
Likud court restores member who said '6 million more' Ashkenazim should burn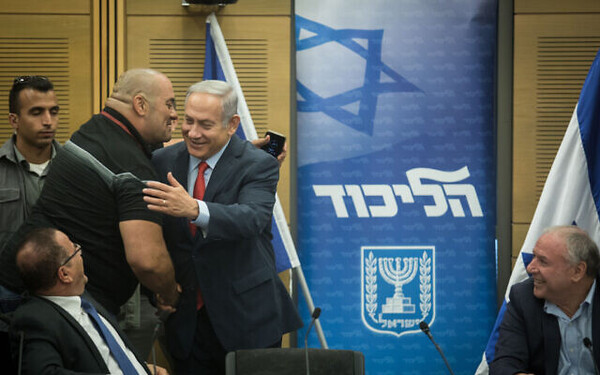 The ruling Likud party's internal court on Friday rejected petitions to boot several party activists for inflammatory remarks and actions.
According to Hebrew news website "Times of Israel", In July, Prime Minister Benjamin Netanyahu ordered the removal of Itzik Zarka after he was caught on video shouting at protesters, "Ashkenazim, whores, may you burn in hell," referring to Jews of Eastern European origin.
"I am proud of the six million that were burned, I wish that another six million will be burned," Zarka said at the time, referencing the Holocaust. "Leftists are traitors, you are the cancer of the country."
While not acquitting Zarka for his remarks, the court restored his membership effective immediately and handed him a yearlong conditional suspension, which will kick in if he makes any comments over the next three years "relating directly or indirectly to the Holocaust or the murder of six million people because they belong to the Jewish people."
In its decision, the court described Zarka as "devoted and committed" to Likud and said he "crossed red lines in a manner that cannot be accepted," before reinstating him.
"There are comments that have no justification and no atonement. Zarka's inconceivable comments became the property of the entire public in Israel and will accompany us and especially him for many years to come, like a blue number that is burned on the arm and cannot be removed," it said, in an apparent reference to the tattoos received by prisoners of Nazi concentration camps.
Zarka, a prominent Likud activist, has a long history of violent statements against those who oppose Netanyahu or his government's policies, while still enjoying close ties to senior politicians including the premier, as well as to his family.
The tribunal outright rejected petitions to ban activists Rami Ben-Yehuda and Moshe Meron for their contentious statements and actions, saying they "are lovers of their people and country" and lauded their commitment to the party in the face of "incited zombies."
Among other incidents in the past, the two were documented with posters reading "leftists are traitors" near the Western Wall during a protest by veterans of the 1973 Yom Kippur War against the government's judicial overhaul.
Part of their defense was a letter from Jerusalem District Prosecutor Nurit Litman, who determined that "leftist traitors" cannot be considered incitement to violence and is protected as freedom of expression.
Ben-Yehuda is known for his attack dog tactics against political rivals and opponents of the party. He was suspended from the Likud in September after physically assaulting anti-Netanyahu protesters, and placed under a restraining order in 2021 for verbally abusing the wife of Likud defector MK Ze'ev Elkin.
Despite his antics, which include calling opponents of the judicial overhaul both "Hitler's contemptible handmaids" and wishing a lawmaker would be sent "to the gas chambers," Ben-Yehuda has been feted by senior Likud members and photographed alongside them, and last month received birthday greetings from far-right National Security Minister Itamar Ben Gvir.
Meron, a former Kahanist, was a leading figure in protests against the previous government.
Responding to Friday's rulings, Likud put out a statement saying it was "sorrowed" the court reinstated Zarka's membership and said the party's position was that he should be permanently barred.
"We will appeal with the appropriate procedures," the statement said.
Opposition Leader Yair Lapid's Yesh Atid party slammed Likud, accusing it of "spitting in the face of hundreds of thousands of Holocaust survivors." "Shame on you," it added. Elkin, the former Likud lawmaker, condemned Likud for its praise of Ben-Yehuda.
"To where have you declined?!" Elkin, now a member of the opposition National Unity party, wrote on X. "And after this they will again tell us that Netanyahu and Likud are not responsible for [Ben-Yehuda's] thuggery."
Tags