Sat 23 Sep 2023 11:33 am - Jerusalem Time
Israeli courts continues to reject demands of administrative detainee Kayed Al-Fasfous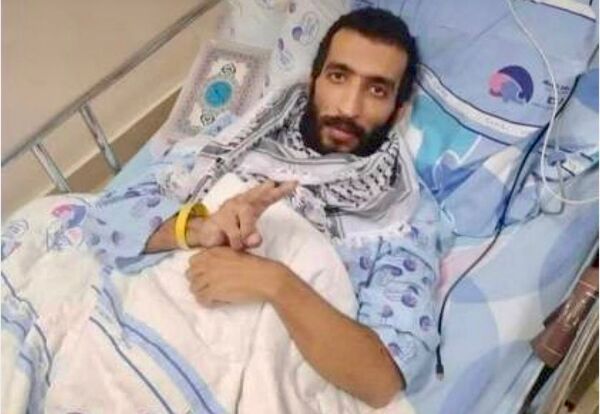 Today, Saturday, the Israeli occupation continues its intransigence and refusal to respond to the demands of administrative detainee Kayed Al-Fasfus (34 years old) from the city of Dura in Hebron, who has been on hunger strike for 52 days in rejection of his arbitrary administrative detention.
According to the Prisoners' Club, the Prison Administration, as part of the ongoing systematic abuse operations against the prisoner Al-Fasfous, transferred him the day before yesterday from the cells of the Negev Desert Prison to the cells of Ashkelon Prison, where the transfers constitute part of the abuse measures that it deliberately uses against the strikers with the aim of exhausting them. Physically.
The Prisoner's Club added that the process of transferring Phosphos, after he had been on strike for more than 50 days, to the cells instead of transferring him to a civilian hospital, is a message that the occupation is continuing a systematic process of revenge against him.
In a previous statement from the Prisoner's Club, he confirmed that Al-Fafsous suffers from serious health conditions, and that the risks to his life are escalating, especially since, in addition to the prison administration's retaliatory measures, the occupation courts play a fundamental role in torturing him, and they reflected this by rejecting the appeal recently filed by his lawyer.
It is noteworthy that the occupation had administratively re-arrested Al-Fafsous on 5/2/2023. He is a former prisoner who spent about (7) years in the occupation's prisons, and he began facing arrest in 2007.
Al-Fafsous went on a hunger strike at the end of May and the beginning of last June, which lasted for 9 days. He had also previously gone on a strike in 2021 against his administrative detention, which lasted for 131 days.
It is noteworthy that the prisoner is married and the father of a daughter, and all his brothers were arrested. Today, alongside him are four other brothers who are administratively detained: Hassan (37 years old), Khaled (35 years old), Akram (39 years old), and Hafez (40 years old). His family was subjected to harassment, as part of the crime (collective punishment).
It is worth noting that the number of administrative detainees, as of the end of August 2023, reached (1264), including (20) children and (4) female prisoners, and with the escalation of administrative detention operations since last year and the current year, individual strikes against detention have escalated. In the context of confronting this crime, dozens of administrative detainees continue to boycott the occupation military courts since last year.
Tags